Report from Dr. A. Daskalova :
The Workshop COST MP1301: New generation biomimetic and customized implants for bone engineering, Biomaterials (design, processing, characterization, modelling) and applications to regenerative medicine, 13–14 October 2015, Sofia, Bulgaria, was organized by the Institute of Electronics, Bulgarian Academy of Sciences.
The workshop was focused on three main topics:
Light –induced Micro-Nano Surface processing and Modification of biomaterials
New trends in design and development of scaffolds for bone tissue engineering.
Functionalization of biomaterials
The workshop was organised in five sessions that focused on different aspects of design, synthesis, modification, research and applications of different types of biomaterials in bone tissue engineering, each introduced by oral presentations.
The purpose of the workshop was to bring together a variety of people working in the field of regenerative medicine.
The workshop was attended by 63 participants from 21 countries. The participants were invited from research, clinical institutions and industry.
The first day was dedicated to the first two topics, where the presenters from Industry have pointed out the newest trends in generation of bio-scaffolds. Different methods for synthesis, manufacturing and printing of the biomaterials were outlined. An emphasis was put on utilization of different type of biomaterials for bone tissue engineering.
The second day proceeded with presentations from clinicians and research and at the end of the day STSM presentations have shown the recent collaborations performed in the frame of COST Action MP1301 NEWGEN. Plans for the future meeting organisation and location were discussed.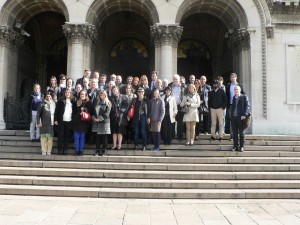 http://www.cost-newgen.org/wp-content/uploads/2013/04/mycostaction_logo2.png
0
0
Stéphane Hocquet
http://www.cost-newgen.org/wp-content/uploads/2013/04/mycostaction_logo2.png
Stéphane Hocquet
2015-11-05 09:17:08
2015-11-05 09:17:08
Workshop in SOFIA (BG) - October 13th and 14th, 2015